Δημιουργήθηκαν τα πρώτα Sidechain στο Bitcoin testnet
Posted on:
June 7, 2016
/
Δημιουργήθηκαν τα πρώτα sidechain στο δοκιμαστικό δίκτυο του Bitcoin testnet. Tα sidechain είναι η τεχνολογία που επιτρέπει την δημιουργία παράλληλων payment καναλιών όπου  μπορούν να εφαρμοστούν καινοτόμες τεχνολογίες που για διάφορους λόγους όπως για θέματα ασφάλειας  είναι δύσκολο να λειτουργήσουν μέσα στο ίδιο blockchain δίκτυο του Bitcoin.
Sidechains allow Bitcoin to be fully programmable. Unlike the 'smart contracts' of a general environment like Rootstock/Ethereum, each individual sidechain is completely "opt-in": by default, users won't be affected at all by any new programming.
Το πως ακριβώς λειτουργούν τα sidechain μπορείτε να διαβάσετε εδώ ενώ το αποτυπώνει αρκετά καλά και το παρακάτω γράφημα.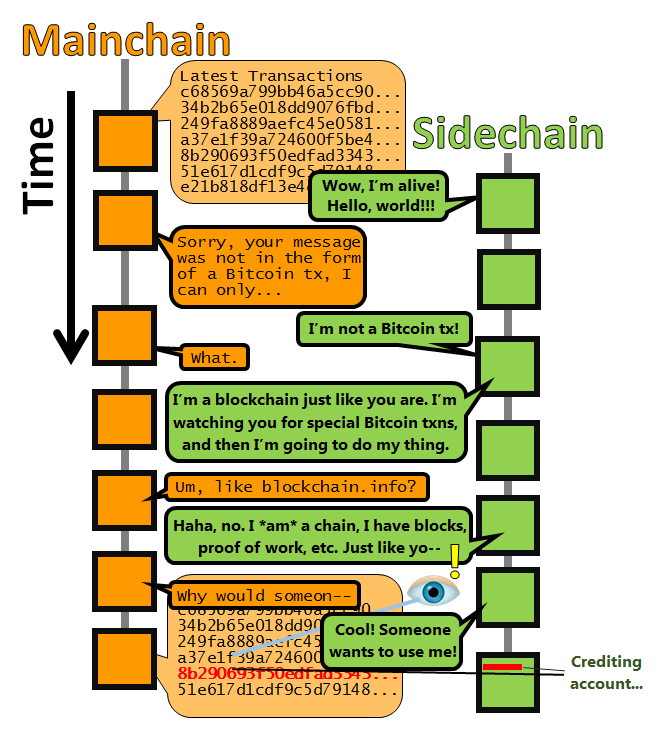 Σήμερα ανακοινώθηκε και από την ομάδα των developer του Bitcoin core και η Compact block relay BIP152, πρόταση που όπως αναφέρουν είναι μια νέα μέθοδος μείωσης του bandwidth που χρησιμοποιείτε για την διάδοση των νέων Block στα Bitcoin node. Το patch αναμένετε να περάσει σε κάποια από τις επόμενες εκδόσεις του Bitcoin core.
Compact block relay, BIP152, is a method of reducing the amount of bandwidth used to propagate new blocks to full nodes.

Summary

Using simple techniques it is possible to reduce the amount of bandwidth necessary to propagate new blocks to full nodes when they already share much of the same mempool contents. Peers send compact block "sketches" to receiving peers. These sketches include the following information:

The 80-byte header of the new block
Shortened transaction identifiers (txids), that are designed to prevent Denial-of-Service (DoS) attacks
Some full transactions which the sending peer predicts the receiving peer doesn't have yet

The receiving peer then tries to reconstruct the entire block using the received information and the transactions already in its memory pool. If it is still missing any transactions, it will request those from the transmitting peer.

The advantage of this approach is that transactions only need to be sent once in the best case—when they are originally broadcast—providing a large reduction in overall bandwidth.

In addition, the compact block relay proposal also provides a second mode of operation (called high bandwidth mode) where the receiving node asks a few of its peers to send new blocks directly without asking for permission first, which may increase bandwidth (because two peers may try sending the same block at the same time) but which further reduces the amount of time it takes blocks to arrive (latency) on high-bandwidth connections.
Τέλος αξίζει να αναφέρουμε ότι ξεκίνησε η δημιουργία csv block από το τελευταίο μεγάλο pool το f2pool και πλέον είμαστε πολύ κοντά στο να ενεργοποιηθεί το soft fork που φέρνει σημαντικές αλλαγές στην λειτουργία του Bitcoin.