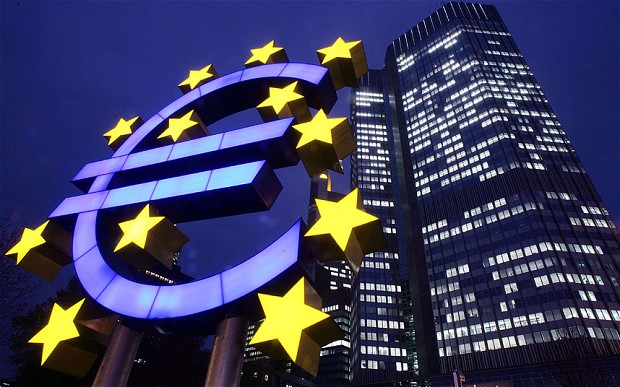 Νέα έκθεση της Κεντρικής Ευρωπαϊκής Τράπεζας αναλύει τα ψηφιακά νομίσματα
Posted on:
March 3, 2015
/
Νέα έκθεση της Κεντρικής Ευρωπαϊκής Τράπεζας βλέπει την δημοσιότητα όπου γίνετε μια εκτενή ανάλυση της λειτουργίας και τεχνολογίας του οικοσυστήματος γενικά όλων των ψηφιακών νομισμάτων. Η Κεντρική Ευρωπαϊκή τράπεζα και σε αυτήν την έκθεση συνεχίζει στην έκθεση της να μην αναγνωρίζει το Bitcoin και γενικά τα altcoin σαν κάποιο είδος νομίσματος αλλά τα αναφέρει ως μια νέα ψηφιακή τεχνολογία μεταφοράς αξίας.
Virtual currency schemes (VCS) have experienced remarkable developments over the past two

years. As announced in its October 2012 report, the ECB has been examining these developments,

 partly in order to understand their potential relevance for retail payme

nts.

Although the term "virtual currency" is commonly used – indeed, it often appears in this report –

the ECB does not regard virtual currencies, such as Bitcoin, as full forms of money as defined

in economic literature. Virtual currency is also not money or currency from a legal perspective.

For the purpose of this report, it is defined as a digital representation of value, not issued by a

central bank, credit institution or e-money institution, which in some circumstances can be used

as an alternative to money. The term "virtual currency scheme(s)" is used throughout this report to

describe both the aspect of value and that of the inherent or in-built mechanisms ensuring that value

can be transferred
Στην συνέχεια η έκθεση περιγράφει την κυκλοφορία πάνω από 500 εναλλακτικών ψηφιακών νομισμάτων ενώ κάνει και εκτενή ανάλυση στην τεχνολογία τους και στην διαφορές τους που υπάρχουν με το Bitcoin.
The VCS "ecosystem" consists mainly of specific, new categories of actors which were not

 present in the payments environment before. Moreover, emerging business models are built

around obtaining, storing, accessing and transferring units of virtual currency. Many schemes have

appeared and some have already disappeared again, but around 500 exist at the time of writing.

This is in stark contrast to the situation of two years ago when it was only really Bitcoin that was

known about. Some of these new VCS are designed with slightly different technical characteristics

that could improve the functionality or some elements in the ecosystem. For many, however, it

is unclear what their purpose is, as it seems that only a few are used, or are intended to be used,

for payments. The acceptance of VCS for payments does not seem widespread, although some

 prominent e-commerce merchants did announce that they would start accepting payments with

Bitcoin. Data concerning the usage of VCS as a payment method are not readily available. Bitcoin

is used for around 69,000 transactions per day worldwide, compared with a total of 274 million

non-cash retail payment transactions per day for the EU alone
Η έκθεση περιγράφει γενικά όλο το οικοσύστημα των ψηφιακών νομισμάτων και τις υπηρεσίες που έχουν δημιουργηθεί γύρω από αυτά όπως τα ανταλλακτήρια, τους miners, τους Wallet provider κτλ.
Τέλος η έκθεση καταλήγει ότι με τα μέχρι στιγμής δεδομένα και λόγο και του χαμηλού τους όγκου συναλλαγών η χρήση τους δεν δημιουργεί κάποιον κίνδυνο στο παραδοσιακό τραπεζικό σύστημα ενώ αναγνωρίζει την δυναμική της τεχνολογίας του Bitcoin ως ένα μέσο αναμόρφωσης του.
Τhe usage of VCS for payments remains limited for now, which implies that there is not yet a

material risk for any central bank tasks, including promoting the smooth operation of payment

systems. However, a major incident with VCS and a subsequent loss of trust in VCS could also

undermine users' confidence in electronic payment instruments, in e-money and/or in specific

 payment solutions. The ECB recognises that, besides their drawbacks and disadvantages, VCS

could also have some advantages over traditional payment solutions and specifically for payments

within virtual communities/closed-loop environments and for cross-border payments. As such, it

is not excluded that a new or improved VCS may be more successful in future. Therefore, the

Eurosystem will continue monitoring developments, notably for payments-related aspects of VCS
Η έκθεση είναι το ποιο περιγραφικό κείμενο που έχει δημοσιευτεί μέχρι σήμερα από κάποιο κρατικό και τραπεζικό οργανισμό για την τεχνολογία των ψηφιακών νομισμάτων. Ολόκληρο το κείμενο της μπορείτε να το διαβάσετε
εδώ