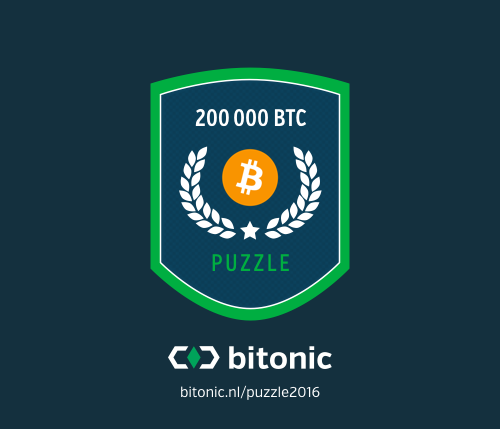 To ολλανδικό ανταλλακτήριο Bitonic.nl χαρίζει Bitcoin μέσω καθημερινών puzzle
Posted on:
January 8, 2016
/
To ολλανδικό ανταλλακτήριο Bitonic.nl για να γιορτάσει το γεγονός της πώλησης συνολικά 200.000 Bitcoin  ανακοίνωσε την έναρξη ενός καθημερινού διαγωνισμού με γρίφους με έπαθλο 0.01 Bitcoin για όσους καταφέρουν και τους λύσουν πρώτοι.
Bitonic has sold over 200 000 bitcoins! To celebrate, we are giving away one bitcoin to the fastest puzzle-solvers. A new puzzle will be released every day, the first to solve each puzzle will be able to claim part of the prize!

The puzzle can be found here: bitonic.nl/puzzle2016

Each puzzle will need to be solved to unlock the next one. To claim the prize the solution to that puzzle needs to be submitted to the blockchain. The prize transaction can be found here:

https://www.blocktrail.com/BTC/tx/4af546ef58f01585f3bbdc14c7181bbd9fc5c31adf075dfff3bacba2f025e0c3

We will update our website as puzzles are solved. In addition, we will update this thread with the correct answers. So check back to make sure you can unlock subsequent puzzles!
Ήδη το puzzle της πρώτης ημέρας λύθηκε μετά από 40 λεπτά με τον νικητή να κερδίζει τα πρώτα του 0.1 Bitcoin.
Για όσους θέλουν να πάρουν μέρος σε αυτό τον διαγωνισμό μπορούν να το κάνουν εδώ