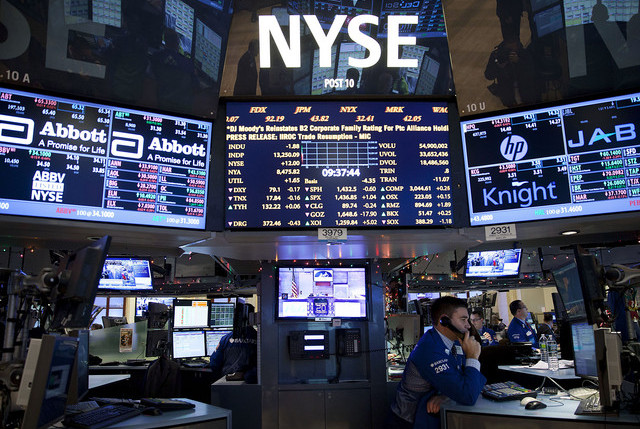 Το χρηματιστήριο της Νέας Υόρκης δημιουργεί price index για το Bitcoin
Posted on:
May 20, 2015
/
Το χρηματιστήριο της Νέας Υόρκης ανακοίνωσε σήμερα την δημιουργία price index για το Bitcoin βασισμένο στα στοιχεία συναλλαγών του ανταλλακτηρίου Coinbase.
"We are now going to use our name, reputation and global index provider stature to provide bitcoin values that the rest of the market can look to,"
Δήλωσε ο πρόεδρος του NYSE Tom Farley
NEW YORK–(BUSINESS WIRE)– The New York Stock Exchange, part of the Intercontinental Exchange (NYSE:ICE) global network of exchanges and clearing houses, today announced the NYSE Bitcoin Index (NYXBT), the first exchange-calculated and disseminated bitcoin index. Launching today, the NYXBT Index will represent the U.S. dollar value of one bitcoin unit based upon actual transactions occurring on select bitcoin exchanges which have been evaluated and meet NYSE's quality standards.

"Bitcoin values are quickly becoming a data point that our customers want to follow as they consider transacting, trading or investing with this emerging asset class," said NYSE Group President Thomas Farley. "As a global index leader and administrator of ICE LIBOR, ICE Futures U.S. Dollar Index and many other notable benchmarks, we are pleased to bring transparency to this market. By combining our technology infrastructure with our expertise in index calculation and data management, we will continue to launch complementary products based on our rigorous standards and proprietary index methodology."

NYXBT utilizes a unique methodology that relies on rules-based logic to analyze a dataset of matched transactions and verify the integrity of the data to ultimately produce an objective and fair daily value for one bitcoin in U.S. Dollars as of 16:00 London time. The index will be published within a short period of that time via the widely-distributed NYSE Global Index Feed (GIF) as well as made publicly available for an initial period on the NYSE index page.

The NYSE Bitcoin Index will initially feature data from transactions from Coinbase Exchange, the leading U.S.-based bitcoin exchange. In 2015, NYSE made a minority investmentin Coinbase, a leading bitcoin wallet and trading platform with over 2.8 million consumer wallets, 39,000 merchants and 7,000 developers.

NYSE's Index Committee will oversee the rules and methodology behind the benchmark, working to ensure it continuously reflects the current nature of the evolving bitcoin market. The committee will also identify and review the data sources for the index calculation process as further exchanges that meet NYSE's rigorous standards for transparency, liquidity and governance are identified. The NYSE Bitcoin suite of indices is anticipated to grow, with new indices introduced over time.

NYSE, along with Intercontinental Exchange is a leading provider of data services, including ICE Benchmark Administration (IBA), which combines robust regulatory and governance frameworks to bring credibility and trust to globally important benchmarks. IBA administers some of the world's most systemically important benchmarks including ICE LIBOR, LBMA Gold Price and ICE Swap Rate (formerly known as ISDAFIX). The NYSE Global Index Group has more than 250 proprietary indices in its portfolio – including the NYSE Arca Biotechnology Index, StrataQuant® Index Family and NYSE Arca Gold Miners Index – and$28 billion in benchmarked assets tracking them via exchange-traded products.
Ολόκληρη την ανακοίνωση μπορείτε να την διαβάσετε εδώ
Το price index θα είναι δημόσια διαθέσιμο για το κοινό στην επίσημη ιστοσελίδα του χρηματιστηρίου και μπορείτε να το δείτε εδώ