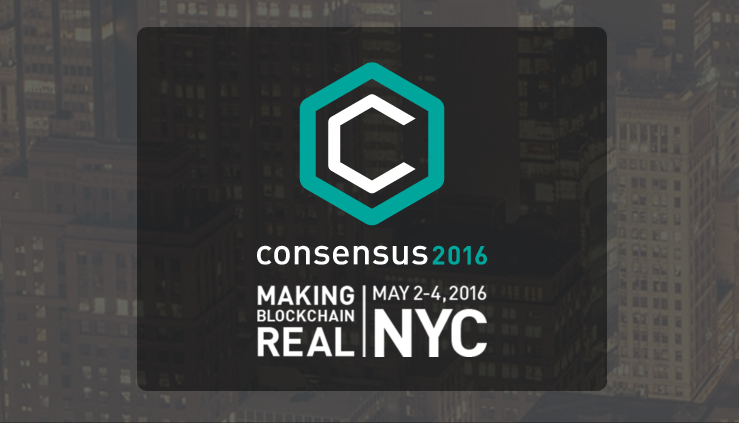 2-4 Μαΐου Συνέδριο CONSENSUS 2016
Posted on:
January 13, 2016
/
Ανακοινώθηκε η ημερομηνία διεξαγωγής του συνεδρίου CONSENSUS 2016 για τις 2-4 Μαΐου. Διοργανωτής του συνεδρίου είναι το μεγαλύτερο ειδησιογραφικό κανάλι για το Bitcoin και την τεχνολογία του Blockchain Coindesk.
CoinDesk is proud to present its 2nd annual blockchain technology summit, Consensus 2016, in collaboration with Digital Currency Group (DCG), the blockchain industry's most active investor, and Coin Center, the industry's leading public policy research and advocacy center.

The multi-day event will define what is "real" in blockchain technology and focus on how to mainstream real-world applications for consumers and enterprises alike. This May 2-4, professionals from leading industry startups, investment firms, financial services institutions, academic and policy groups will congregate at the New York Marriott Marquis for Consensus 2016.
Όπως και στο συνέδριο του 2015 έτσι και φέτος αναμένονται να πάρουν μέρος σημαντικά στελέχη όχι μόνο του Bitcoin και Blockchain επιχειρηματικού κόσμου αλλά και γενικά του χρηματοπιστωτικού συστήματος και της ψηφιακής οικονομίας.
Μέχρι σήμερα τα όνομα που έχουν ανακοινωθεί ότι θα λάβουν μέρος είτε με ομιλίες είτε συμμετέχοντας στα panel συζήτησης είναι ο Ceo του Circle Jeremy Allaire, η Blythe Masters Ceo του Digital Asset Holdings, o Ceo του Abra Bill Barhydt, o Ceo της Bitpay Stephen Pair, η Ceo της BitPesa Elisabeth Rossiello,o Marwan Forzley Ceo της εταιρείας ψηφιακών πληρωμών Align Commerce, ο Chad Cascarilla Ceo της itBit, Ο Ceo της Ripple Chris Larsen και Eric Jennings Ceo της εταιρείας Filament.
Ολόκληρη την λίστα των ομιλητών μπορείτε να την δείτε εδώ
Με αφορμή της ανακοίνωσης της ημερομηνίας του συνεδρίου ανακοινώθηκε και ότι το Coindesk από σήμερα ανήκει στον επενδυτικό όμιλο του Barry Silbert Digital Currency Group.