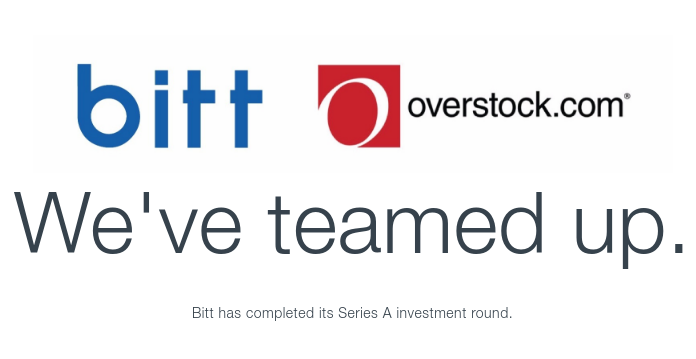 H Overstock επενδύει 4 εκατομμύρια δολάρια στο Bitcoin startup της καραϊβικής Bitt
Posted on:
April 2, 2016
/
To Bitcoin startup Bitt με έδρα το Barbados της καραϊβικής ανακοίνωσε ότι στον πρώτο του επενδυτικό γύρο εξασφάλισε 16 εκατομμύρια δολάρια με τα 4 εκατομμύρια να προέρχονται από τον στρατηγικό επενδυτή Dr. Patrick M. Byrne και την εταιρεία του Overstock.com ανακοινώνοντας και επίσημα την μεταξύ τους συνεργασία.
Bitt, the Barbados based financial technology company has closed its Series A investment round with a staggered investment from retail giant Overstock.com of $16 million USD, placing the company's valuation at $50 million US Dollars.

The investment was announced at a media conference in Barbados attended by principals from both Bitt.com and Overstock.com, in addition to dignitaries from various Caribbean nations.
Όπως ανακοινώθηκε τα κεφάλαια θα χρησιμοποιηθούν για την περαιτέρω ανάπτυξη της ψηφιακή οικονομίας στις χώρες της Καραϊβικής ενώ όπως αναφέρει και ο Ceo της εταιρείες Gabriel Abed όραμα τους είναι η καραϊβική να μεταβεί στην Blockchain τεχνολογία ανοίγοντας τα σύνορα της νησιωτικής οικονομίας μετατρέποντας τους πολίτες της σε πολίτες του κόσμου.
"Regional small businesses find it financially prohibitive to offer online payment options to consumers and this places a drag on entrepreneurism in the Caribbean," said Bitt CEO and Co-Founder, Our aim is to use cryptography and digital ledger technology to turn our regional citizens into global citizens, giving them the ability to send or receive money directly via their phones, in seconds, from all corners of the globe."
Από την μεριά του o Dr. Patrick M. Byrne δήλωσε ότι πιστεύει απόλυτα στο όραμα της Bitt για την μετάβαση της καραϊβικής στην ψηφιακή οικονομία.
"Bitt has a vision for the Caribbean of frictionless mobile cash, beginning with central banks transparently issuing digital fiat which is then exchanged using a blockchain mechanism (with proper regulatory oversight).We respect and endorse that vision, and share a common desire to see online consensual exchange flourish globally."
Αξίζει να αναφέρουμε ότι τον Φεβρουάριο του 2016 η Bitt είχε παρουσιάσει σε συνεργασία με την κεντρική τράπεζα της νησιωτικής χώρας Barbados το πρώτο ψηφιακό Barbadian Dollar που χρησιμοποιεί το Bitcoin Blockchain.