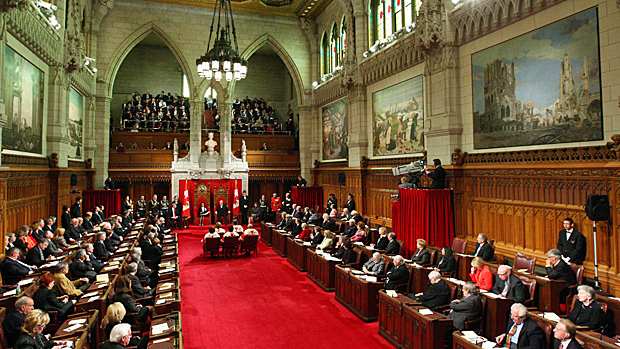 H Γερουσία του Καναδά αποφάσισε την προστασία του Bitcoin από "νομοθετική ασφυξία"
Posted on:
June 20, 2015
/
Μετά από μήνες ανοιχτών ακροάσεων με θέμα το Bitcoin η Γερουσία του Καναδά αποφάσισε να προστατεύσει το ψηφιακό νόμισμα από υπερβολική και αυστηρή νομοθεσία ώστε να δώσει σε αυτή την νέα τεχνολογία τον χώρο για να αναπτυχθεί.
Η έκθεση με τίτλο "Digital Currency: You Can't Flip This Coin!" δημοσιεύτηκε αυτές τις μέρες και είναι αποτέλεσμα των συμπερασμάτων των πολύμηνων ακροάσεων σε μέλη της κοινότητας του Bitcoin, καθηγητές τεχνολογίας καθώς και κυβερνητικούς και οικονομικούς παράγοντες της χώρας.
On 25 March 2014, the Senate authorized the Standing Senate Committee on Banking, Trade and Commerce (the Committee) to study digital currencies, with a particular focus on the potential risks, threats and advantages of these electronic forms of exchange. The Committee's interest in the topic was partially motivated by media reports about bitcoin being used to make and receive payments over the Internet, and comments by witnesses during our recent statutory review of the Proceeds of Crime (Money Laundering) and Terrorist Financing Act about trends in the use of the Internet to launder money.

During the study, 55 witnesses appeared before the Committee in Ottawa. Witnesses included representatives from federal departments and agencies, the Bank of Canada, law enforcement entities, provincial securities regulators, the financial services sector, money services businesses, payment card operators, academics, lawyers, digital currency-related businesses, trade associations, a charity and individuals who participate in the digital currency sector.
Στην έκθεση γίνετε αναλυτική περιγραφή της τεχνολογίας του Bitcoin καθώς και των παράνομων δραστηριοτήτων και κινδύνων γύρω από αυτήν ενώ καταλήγει στο συμπέρασμα ότι οι ευκαιρίες και προοπτικές ανάπτυξης που πηγάζουν από την νέα τεχνολογία υπερτερούν σημαντικά από τις όποιες παράνομες δραστηριότητες που μπορούν να αναπτυχθούν πάνω σε αυτήν.
In the Committee's view, it is the case that legislators, governments, central banks, private-sector entities in a range of sectors, customers, merchants, investors and others are considering the opportunities and challenges that digital currencies present.

After hearing from a broad range of witnesses in Ottawa, and traveling to New York City for a factfinding trip, the Committee has concluded that digital currencies and their technologies present a variety of opportunities. In the Committee's view, it is likely that the innovation underlying these currencies and technologies has applications that have not yet been imagined. There is evidence that they reduce transaction costs, increase the choices available to customers and merchants, protect users' identities and record all transactions. A key focus, then, is the actions that the federal government and other entities could take to maximize those opportunities

Equally, the Committee acknowledges that digital currencies and their technologies present a range of challenges. Money laundering, terrorist financing, losses due to cyber-theft, bankruptcy of digital currency exchanges, price volatility, and a range of taxation issues are serious obstacles for a government whose primary duty is to protect its citizens

Therefore, the Committee strongly believes that a balanced regulatory approach is needed in the digital currency sector. On one hand, the Committee is mindful that the government has the responsibility to protect consumers and root out illegal activity. On the other hand, it is critical that government action does not stifle innovation in digital currencies and its associated technologies that are in an early and delicate stage of development.

Having completed the study, the Committee is of the opinion that the opportunities presented by digital currencies, technologies and businesses outweigh the challenges. The Committee is confident that the implementation of our recommendations will have positive outcomes for consumers, merchants, digital currency-related businesses, Canada's financial services sector and others. The Committee looks forward to timely government action designed to maximize the opportunities and manage the challenges facing the digital currency sector
Χαρακτηριστικό του ενθουσιασμού των Γερουσιαστών για την τεχνολογία των ψηφιακών νομισμάτων είναι ότι ο Γερουσιαστής Doug Black πιστοποίησε την έκθεση στο Bitcoin Blockchain μέσω της εταιρείας Proof Of Existance
Ολόκληρη την έκθεση της Γερουσίας του Καναδά μπορείτε να την διαβάσετε εδώ