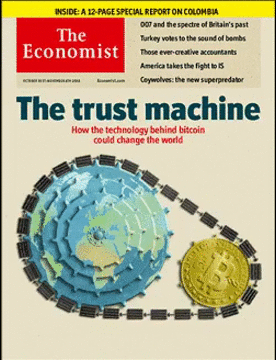 H τεχνολογία του Bitcoin πρωτοσέλιδο στο 'Economist'
Posted on:
October 31, 2015
/
H τεχνολογία του Bitcoin γίνεται πρωτοσέλιδο σε ένα από τα ποιο έγκυρα περιοδικά της παγκόσμιας οικονομίας στο 'The Economist'. Στα άρθρα The trust machine και The great chain of being sure about things γίνεται εκτενή περιγραφή όχι μόνο της τεχνολογίας του Βlockhcain και της επανάστασης που φέρνει στο χρηματοπιστωτικό σύστημα και στην παγκόσμια οικονομία αλλά γίνεται αναφορά και του ίδιου του ψηφιακού νομίσματος Bitcoin που είναι η κινητήριος δύναμη αυτής της τεχνολογίας.
BITCOIN has a bad reputation. The decentralised digital cryptocurrency, powered by a vast computer network, is notorious for the wild fluctuations in its value, the zeal of its supporters and its degenerate uses, such as extortion, buying drugs and hiring hitmen in the online bazaars of the "dark net".

This is unfair. The value of a bitcoin has been pretty stable, at around $250, for most of this year. Among regulators and financial institutions, scepticism has given way to enthusiasm (the European Union recently recognised it as a currency). But most unfair of all is that bitcoin's shady image causes people to overlook the extraordinary potential of the "blockchain", the technology that underpins it. This innovation carries a significance stretching far beyond cryptocurrency. The blockchain lets people who have no particular confidence in each other collaborate without having to go through a neutral central authority. Simply put, it is a machine for creating trust.
Είναι η δεύτερη φορά μέσα σε λίγους μήνες που η τεχνολογία του Bitcoin γίνεται πρωτοσέλιδο σε μεγάλο έντυπο της οικονομίας με το Bloomberg Market να αφιερώνει τον Σεπτέμβριο το εξώφυλλο του και αυτό στο Blockchain με την Blythe Masters να παρουσιάζει την καινοτομία του.