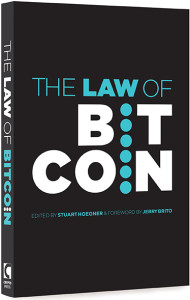 'The Law of Bitcoin' – Βιβλίο για τους κανονισμούς και νομοθεσία για το Bitcoin
Posted on:
July 20, 2015
/
Κυκλοφόρησε το βιβλίο 'The Law of Bitcoin' που αποτυπώνει τους κανονισμούς και την νομοθεσία που ισχύει για το ψηφιακό νόμισμα ειδικά στις χώρες του Καναδά, Γερμανίας, Ηνωμένες Πολιτείες και Ηνωμένο Βασίλειο.
THE LAW OF BITCOIN is the response to the great interest
and need for a text focused on the law of cryptocurrencies,
especially bitcoin. This book is the first of its kind delving
into cryptocurrency law in four jurisdictions: Canada,
Germany, the United Kingdom and the United States.Written by knowledge leaders in the legal cryptocurrency
space, THE LAW OF BITCOIN addresses such topics
as the intersection of cryptocurrencies and criminal law,
taxation, anti-money laundering and counter-terrorist
financing regulations, securities law, consumer protection,
negotiable instruments, currency law and financial regulation.THE LAW OF BITCOIN will be a leading resource and go to
text both for those wishing to understand the basics of how
the law affects cryptocurrency and for those in the legal
community searching for sophisticated answers to more
advanced questions.
Το βιβλίο θα το βρείτε σε όλα τα μεγάλα διαδικτυακά eshop σε ψηφιακή καθώς και έντυπη μορφή.
Περισσότερες πληροφορίες μπορείτε να βρείτε στο επίσημο site εδώ