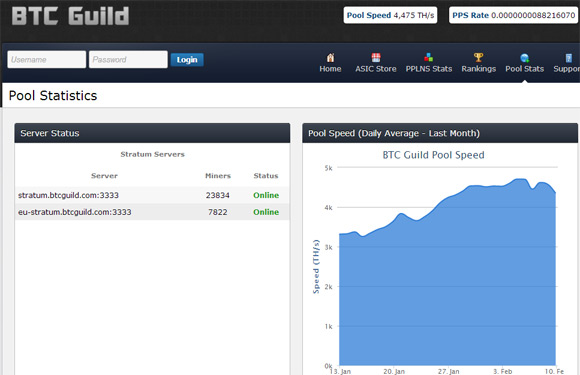 To Mining Pool BTC Guild σταματάει την λειτουργία του
Posted on:
June 16, 2015
/
Το Bitcoin Mining Pool BTC Guild ανακοίνωσε σήμερα ότι θα σταματήσει οριστικά την λειτουργία του στις 30 Ιούνιο ενώ όσοι συμμετέχουν σε αυτό θα μπορούν να τραβήξουν τα Bitcoin τους μέχρι της 30 Σεπτεμβρίου.
Από τι δήλωσε ο διαχειριστής του pool Eleuthria μια από τις κύριες αιτίες αυτή τους της απόφασης είναι το BitLicense της Νέας Υόρκης που δεν τους επιτρέπει πλέον να λειτουργούν ανώνυμα καθώς και το μικρό share κάτω του 2% που έχουν αυτή την στιγμή στο γενικό mining κάτι που μειώνει τα έσοδα τους και δυσκολεύει αρκετά την συντήρηση του mining pool
This is the second time BTC Guild has announced closure, but this time the decision will not be reversed. The reasons have not changed much since the original announcement.

As mining has become more centralized, BTC Guild has continuously shrunk in proportion to the network, now being less than 3% of the network hash rate. The costs of running the pool have not changed, and the amount of funds at risk in the event of a compromise is significantly higher than what the pool could ever recover from. When the pool was 20-30% of the network, the amount of funds at risk was slightly higher, but the ability for the pool to recover from that loss was present. At 3% of the network, the pool would not be able to recover from such a loss.

Additionally, the NYDFS BitLicense regulations have now become finalized, and the final regulations have enough gray area that BTC Guild is at risk. The fact that BTC Guild is not in New York does not matter, since it would be doing business with New York residents while they are physically in New York. This fact makes it possible for New York to attempt to claim jurisdiction to enforce regulations. Whether or not BTC Guild could win in defense of such an attempt is irrelevant, since the cost of defending the pool would be greater than any income the pool is expected to generate going forward.
To BTC Guild είναι από τα αρχικά bitcoin mining pool που είχαν δημιουργηθεί με την λειτουργία του να ξεκινάει τον Μάιο του 2011
Ολόκληρη την ανακοίνωση παύσης λειτουργίας του pool μπορείτε να την διαβάσετε στο site τους.