Bitcoin ανταλλακτήριο χορηγός στην εθνική ομάδα της Τουρκίας
Posted on:
August 21, 2020
/
To Bitcoin ανταλλακτήριο της Τουρκίας BtcTurk παρουσιάστηκε σήμερα σε σχετική εκδήλωση ως ο επίσημος χορηγός της εθνικής ομάδας ποδοσφαίρου ανδρών και γυναικών. Είναι το πρώτο ανταλλακτήριο στον κόσμο που γίνετε χορηγός σε εθνική ομάδα ενώ ήδη το BtcTurk που είναι και το μεγαλύτερο σε όγκο συναλλαγών στην χώρα είναι και χορηγός στην ομάδα του πρωταθλήματος Yeni Malatyaspor.
-BtcTurk's CEO, Özgür Güneri – "As BtcTurk, we continue to move forward on our path with the mission of being a pioneer brand in the world. We take great pride in being one of the "Main" supporters of our National Teams at the UEFA European Championship, which will be held in 2021 — the first time the games will be held in an odd-numbered year. Last year, we supported Yeni Malatyaspor, one of the successful clubs in TFF's Super League, as their name and jersey sponsor. This year, we continue to contribute to the Turkish sports and football community, and we are very pleased to support our Women's and Men's National Teams. I would like to take this opportunity to express my gratitude to Mr. Nihat Özdemir, President of TFF and to all members of the board. With this agreement to be valid for 28 months, BtcTurk undertakes to be the main sponsor of our Women's and Men's National Teams. This way, we aim to support the successful representation of Turkish sports in the world and to contribute to saving resources for future generations. Our agreement with TFF will further strengthen our National Teams, which make us proud at all times, prior to finals of European Football Championship. With the stability to be achieved thanks to this partnership, we firmly believe that our National Teams will realize their great ambitions in the future tournaments and fill the people of our country with great joy. As BtcTurk, we wish our Women's and Men's National Teams success and say #SonuKupaOlsun (#LetThisBeTheRoadToCup)"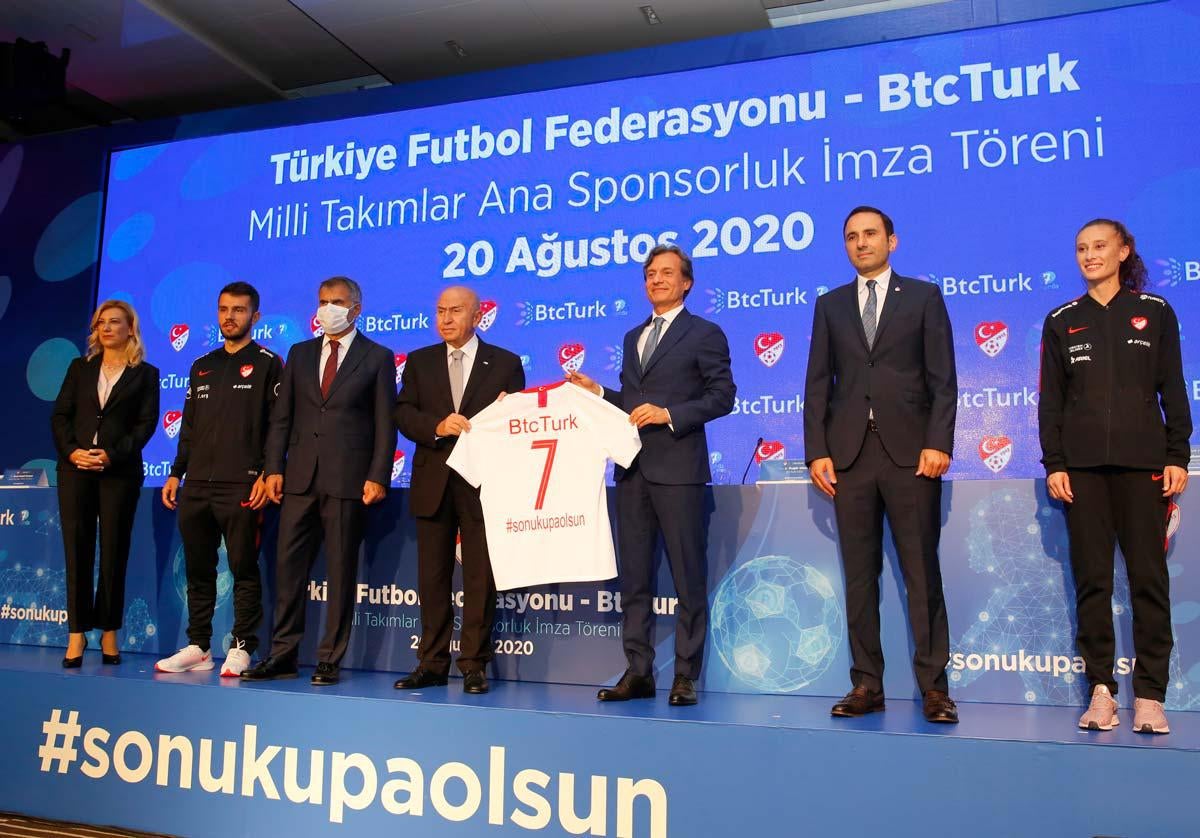 H Τουρκία έχει εισέλθει εδώ και δύο χρόνια σε σοβαρά οικονομικά προβλήματα με το εθνικό νόμισμα της χώρας στην κυριολεξία να έχει καταρρεύσει σε αξία, προβλήματά που γίνανε πολύ ποιο έντονα τους τελευταίους έξι μήνες λόγο της πανδημίας που έχει πλήξει αρκετά σοβαρά την χώρα. Οι Τούρκοι μέσα σε αυτό το αβέβαιο οικονομικό κλίμα έχουν στραφεί στον χρυσό αλλά και στο Bitcoin καθώς είναι μια διέξοδος αποθήκευσης αλλά και μεταφοράς αξίας εκτός της χώρας και του παραδοσιακού τραπεζικού συστήματος.